Images are the property of the Lebanon Historical Society and copyright laws may apply.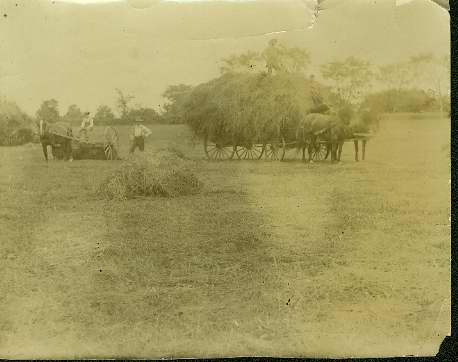 Bringing in hay on the Burgess farm on Kick Hill Road
Photographer:  unknown
Date:  circa 1890-1920
Image of four unidentified men posed in a hay field.  One is driving a horse-drawn hay rake, one stands with a scythe, one is driving a two-horse team pulling a loaded hay wagon, and the last is standing on top of the load of hay.
According to the donor in 1899 her great-grandmother Emma Daggett, wife of Joseph Nathaniel Daggett (a Civil War veteran and manager of Wanamaker's department store in Philadelphia and New York,) purchased a farm on the Lebanon Green from the estate of Dr. Charles Sweet.  The Daggetts apparently hoped that their son Joseph would be interested in farming. The family used the farm as a summer home and hired Frederick A Burgess as resident farmer.  Emma Daggett sold the property in 1902 but her daughter had fallen in love with Fred Burgess and the two were married in 1906.
This image was taken on Martha and Fred Burgess's farm on Kick Hill before they purchased the "Simeon Gray Tavern at 896 Trumbull Highway.  Fred Burgess was a trial judge for twenty years and held court in the front parlor of their house.
1988.002.003
Provenance:  Gift of Margaret Daniel